PRODUCTS
You are now the location of > PRODUCTS > Torrington roller bearings
Torrington roller bearings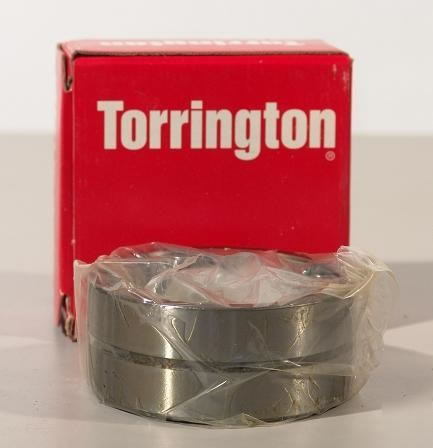 A radial
Inch Sizes cylindrical roller bearing
consists of an inner and/or outer ring, a roller retaining cage and a complement of controlled contour cylindrical rollers. Depending on the style of bearing, either the inner or the outer ring will have two roller guiding ribs. The other ring, separable from the assembly, has one rib or none. The ring with two ribs axially locates the position of the roller assembly.
The diameters of these ribs may be used to support the roller cage. One of the ribs may carry light thrust loads when an opposing rib is provided in the mating ring.
Sizes: 15 mm - 65 mm (0.5906 in. to 2.5591 in.) and 100 mm - 600 mm (4 in. - 27.20 in.).
Markets: Power generation, oil eld, mining and aggregate processing, gear drives and rolling mills.
e Features: Extensive product range for integration into heavy-duty industrial applications.
Bene ts: Accommodate heavy radial loads through expertly designed critical
dimensions, such as roller and raceway diameter and contact geometry.
RIU, RU
These bearings carry radial load only and can accommodate expansion or contraction. The relative axial displacement of one ring to the other occurs with minimum friction while the bearing is rotating. These bearings may be used in one or two positions for shaft support if other means of axial location are provided. The outer ring has two integral ribs while the inner ring has a cylindrical O.D. without ribs.
RIN, RN
This series has the same characteristics as RIU and RU, bearings except that two ribs are incorporated in the inner ring, and the outer ring has a cylindrical bore without ribs.
RIJ, RJ
Types RIJ and RJ have double-ribbed outer and single-ribbed inner rings and can support heavy radial loads, as well as light unidirectional thrust loads up to 10 percent of the radial load. The thrust load is transmitted between the diagonally opposed rib faces in a sliding rather than a rolling action. Thus, when limiting thrust conditions are approached, lubrication can become critical.Your Timken representative should be consulted for such applications. When thrust loads are very light, these bearings may be used in an opposed mounting to locate the shaft. In these cases, shaft endplay should be adjusted at time of assembly.
RIF, RF
This type has the same characteristics as RIJ and RJ, except it incorporates a double-ribbed inner ring and a single-ribbed outer ring.
RIT, RT
These types have a double-ribbed outer ring and a single-ribbed inner ring with an abutting loose rib, which allows the bearing to provide axial location and to carry light thrust loads in both directions. Factors governing radial and thrust capacities are the same as for RIJ and RJ.
A type RIT or RT bearing may be used in conjunction with a type RN or RU bearing for applications where axial shaft expansion is anticipated. In these cases, the txed bearing is usually placed nearest the drive end of the shaft to minimize alignment variations in the drive. Shaft endplay (or xoat) is determined by the axial clearance in the bearing.
RIP, RP
These types have the same characteristics as RIT and RT, except the inner ring is double-ribbed with a loose abutting rib.
5200
This type carries radial load only and has a double-ribbed outer ring. It has enhanced radial capacity due to internal design proportions. The bearings are useful for installations in which limited radial cross section is available where the shaft serves as the inner ring.
A-5200-WS
This type has the same characteristics as the 5200, except, includes a full-width cylindrical O.D. inner ring.
A-5200-WM
This type has the same characteristics as the WS except, with a machined brass cage.

7 No.
[1]
[2]
[3]
[4]
[5]
Page
8