PRODUCTS
You are now the location of > PRODUCTS > Split Bearings
Split Bearings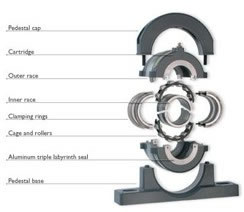 Complicated replacement procedures such as pulling gears and couplings, dismounting drives, or stripping line shafting are major causes of equipment downtime. In applications for the mining and processing industry, where the replacement of a solid spherical roller bearing would require
such procedures, the FAG split spherical roller bearing can be used instead.



Proven Design:

The internal design of split spherical roller bearings is identical to the proven high capacity FAG E1-design spherical roller bearing. This maximum load carrying capacity results in longer service life and proven FAG quality.


Applications:

T
Bucket wheel escavators and reclaimers

<
Winch drums and rope sheaves

<
Screw conveyors

<
Bucket elevators and conveying belts

<
Mixers and stirrers

<
Mills and crushers

<
Sinter plants and rotary kilns

<
Fans and blowers

<
Deducting equipment

<
Drive and line shafts


Metric or Inch Dimensions:

The wide range of FAG split spherical roller bearings includes standard series like 222, 230 and 231 and starts from 55 mm and 2 3/16 inch. For dimensions and technical data see FAG Publication No. WL 43 165. Information on other designs will be supplied upon request.
IKO was the first Japanese company to engage in needle roller bearing development. Since the early days, IKO has set out to become the leader in this field. With applications from motorcycle engines to textile machinery, IKO have a distinguished and respected presence accross a vast range of applications worldwide. We stocked many IKO
7 No.
[1]
Page 8