Agent Brand
You are now the location of > Agent Brand > KOYO
KOYO Bearing
Agent brands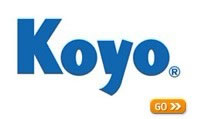 Koyo (Koyo Seiko Co., Ltd.) was founded in 1921, in Ikuno-ku Osaka Koyo Seiko Co., Ltd. was founded and began manufacturing bearings. Is a research-based Japanese companies manufacturing integrated function, with 6557 employees. KOYO Bearing in January 2006 with the Toyota Engineering Machine Co., Ltd. merged to form the Czech Republic too Gert.
Japan's Koyo Seiko Co., Ltd. KOYO SEIKO for the production of one of Japan's four main bearings to the world-class production and control equipment, Japan has the country divided in Tokyo, Nara, cited fields, Toyohashi, Takamatsu, Tokushima, and Kameyama, etc. 8 the main production facility, (all through the ISO9001 certification), overseas across Europe, Asia, North and South America several production facilities and research institutions.
Koyo Seiko of Japan produced by strains of the club tens of thousands of high-precision, high-quality products KOYO bearings to provide the aerospace technology, computer components, motors, high-speed trains, rapid transit trains, industrial machinery, CNC lathe, high precision processing machines, Automobile, motorcycle industry, iron and steel industry. And other important components to make the best choice.
After careful consideration, Koyo has decided to change many common sizes of spherical roller bearings, from bronze to a steel retainer. The advantages to making this change includes increased load capacity and improved availability.
Bearings play a key role in the operation of virtually all types of machines. As an integrated bearings maker, Koyo designs and manufactures all types, from miniature bearings one millimeter in diameter to bearings over seven meters in diameterWhether your application requirement is Automotive OEM, Automotive & Heavy Duty
Aftermarket, Industrial OE or Industrial Aftermarket, Koyo can fulfill your bearing requirement. And, if you happen to be challenged by that difficult, demanding application, Koyo can provide you with Hybrid ceramic ball bearings, Extreme Special Environment bearings and or a variety of specialty coatings such as PTFE or Clean Pro bearings.
RELEVANT KOYO BEARINGS
SKF bearing ,FAG bearing ,NSK bearing ,INA bearing ,TIMKEN bearing KOYO bearing, NTN bearing, IKO bearing ,NACHI bearing,ROLLWAY bearing
SKF bearing ,FAG bearing ,NSK bearing ,INA bearing ,TIMKEN bearing KOYO bearing, NTN bearing, IKO bearing ,NACHI bearing,ROLLWAY bearing